About Us
---
I-DREAM4D, a DoD Consortium for Innovation Driven Research/Education Ecosystem for Advanced Manufacturing for the Defense, is created by DoD to support the talent needs for US military and US defense manufacturing operations. The focus of the consortium is through a collaborative effort, to conduct impactful research for defense innovations and to prepare engineers and scientists who lead the US defense manufacturing innovation.
The consortium is composed of five higher education institutions (UTRGV, UT Austin, UTSA, Virginia Tech, VSU), national research centers, national labs, defense manufacturers, local high school districts, and community colleges. The goal is to promote advanced additive manufacturing (AM) and smart manufacturing (SM) and to support innovations for the defense industries.
Vision
The national leading consortium for additive and smart manufacturing research, innovation, and education for the Defense Industry.
Mission
Cultivate an innovation driven manufacturing education ecosystem with programs to recruit, engage and educate talent that lead U.S. defense manufacturing innovation. Upon graduation, they are ready for a DREAM career in advanced manufacturing in the defense industries.
Perform high risk and high return research projects supported by consortium industrial members
Educate college students in advance manufacturing engineering concentration programs
Prepare faculty to perform impactful research for the defense industries
Prepare student to lead defense innovation
Expose defense manufacturing innovation opportunities to local communities and school districts
Consortium talent preparation pathway concept
The foundation of the I-DREAM4D consortium is composed of the existing innovation driven education programs and university research labs and centers. Superficially, UTRGV INTEnD (International Networked Team for Engineering Design and Innovation) program provides a strong innovation experiences for engineering students who conduct real-case industrial innovation projects. Additionally, this entire framework is supported by key partners including regional education agencies, state level manufacture extension programs, defense industry partners, and national advanced manufacturing centers. These programs and centers provide required resources for the three education/research pillars of the consortium: Defense Innovation, Smart Manufacturing Technologies and Systems, and Additive Manufacturing Technologies. Supported by the three pillars, the consortium develops and sustains the talent preparation pathway, composed of programs for awareness, education/training, and research experiences for students at different stages in the talent preparation pipeline.
Download the pathway and key components PDF.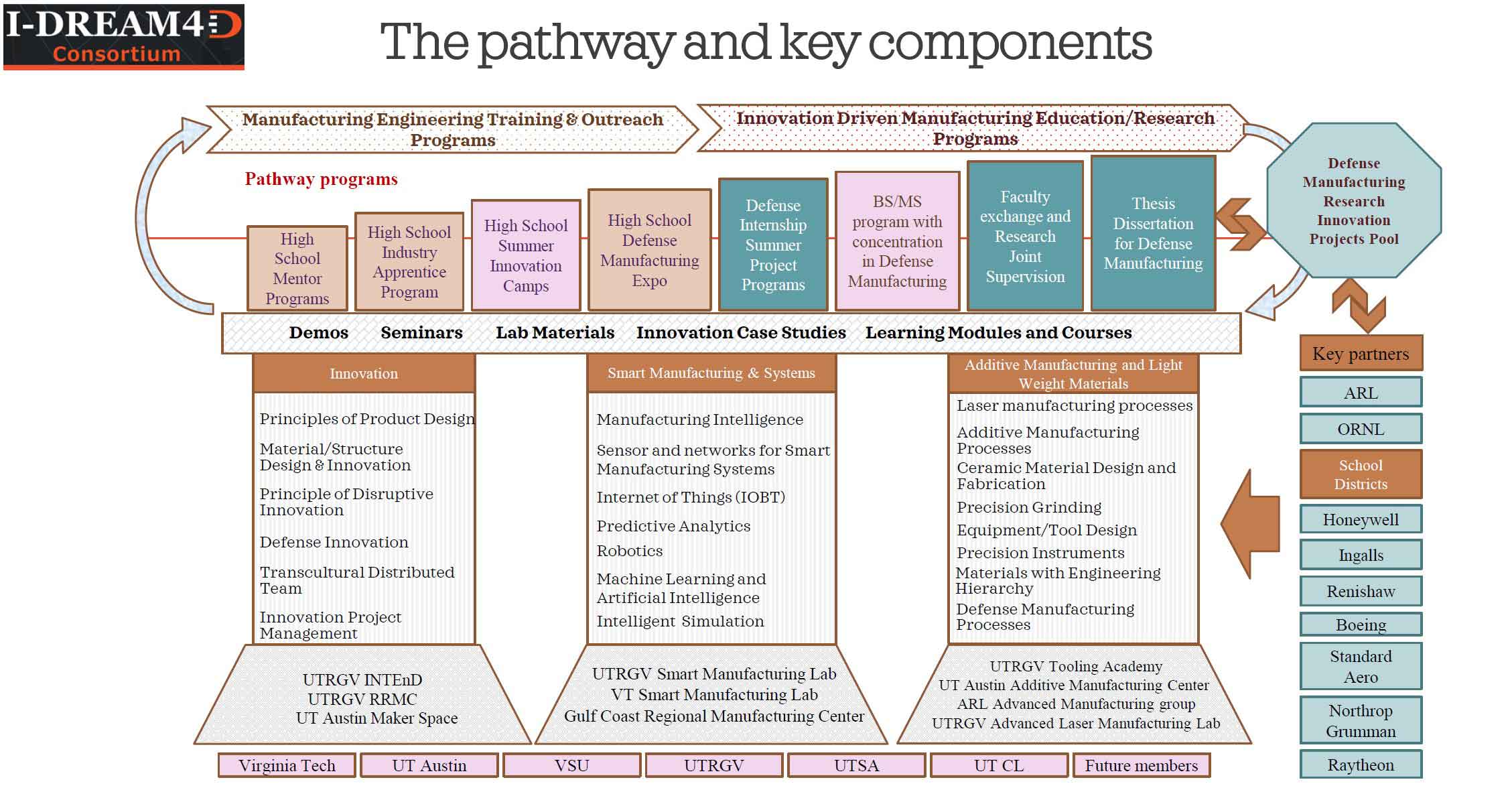 5
Institutions

2
National Labs

1
National Center

10+
Defense Contractors