Opportunities for Students
---
I-DREAM4D Consortium Internship
The DoD I-DREAM4D Consortium provide internships that are designed to provide intensive, full-time summer research experiences for students affiliated with the consortium institutions.
The I-DREAM4D summer internship is a 10 week program offered to students at all affiliated institutions (UTRGV, UT Austin, UT San Antonio, Virginia Tech, Virginia State). The students will engage in continuous, substantive research over the course of  10 weeks period at world-leading defense manufacturers including Honeywell, Raytheon, Ingalls Shipbuilding, Northrop Grumman, Boeing, Standard Aero, NSIN, and defense research labs including Army Research Lab(ARL), Oak Ridge National Lab(ORNL), and Commonwealth Center for Advanced Manufacturing(CCAM), Nanomanufacturing Systems Center(NASCENT)."
Student selected for the internships will be fully engaged in the following activities:
Working on fascinating defense innovation projects,
Interaction with engineers and scientists at Defense contractors and Defense laboratories,
Interaction with faculty, professionals, and other academics during the regular semesters before and after the student intern,
Work on leading edge research projects with faculty members,
Technical writing,
Social activities,
Participation and presentation at I-DREAM4D Annual Defense Conference and Expo.
Summer Scholars receive a total of $4,000 stipend plus full coverage of food, room, and travel cost.
The dates for the 2023 I-DREAM4D summer internship are: May 31 – August 15. The application will be accessible on December 1, 2022 and all materials are due on, or before April 15, 2023. To be considered for the 2023 I-DREAM4D summer internship, a completed application and supporting documents must be submitted to idream4d@idream4d.org . Early applicants will receive priority consideration.
To be considered, please submit to idream4d@idream4d.org :
A completed I-DREAM4D application.

The application form will require each applicant to identify one faculty mentor associated with the Consortium, for whom they would like to work during the summer. The list of faculty mentors available for the institute can be found by clicking this link to consortium team . The application should also include a brief summary of interested companies and projects, and the rationale for why that faculty member

 

should consider

 

you as a mentee.
An unofficial transcript from the college you are currently attending (an official transcript will be required once a participation offer has been accepted).
Personal statement (1 pages maximum) which includes the following:

Why do I want to participate in the I-DREAM4D summer internship program; that is, what do I hope to gain from this summer research experience?
What companies and what type of project do I prefer to work on during the summer intern?
What are my short- and long-term career goals?
What are my academic (master's, doctorate, or another graduate or professional degree) goals?
List personal qualities, research experiences related to the Consortium mission (which can be found here), and/or technical skills that may enhance your research experience.
One letter of recommendation (i.e., faculty member who can evaluate your potential for graduate school, taking into consideration your accomplishments, intellectual prowess, independent work habits, capacity for critical and analytical thinking, and ability to organize and express ideas clearly). These letters should be uploaded to the application portal (preferably as a PDF file) by the due date.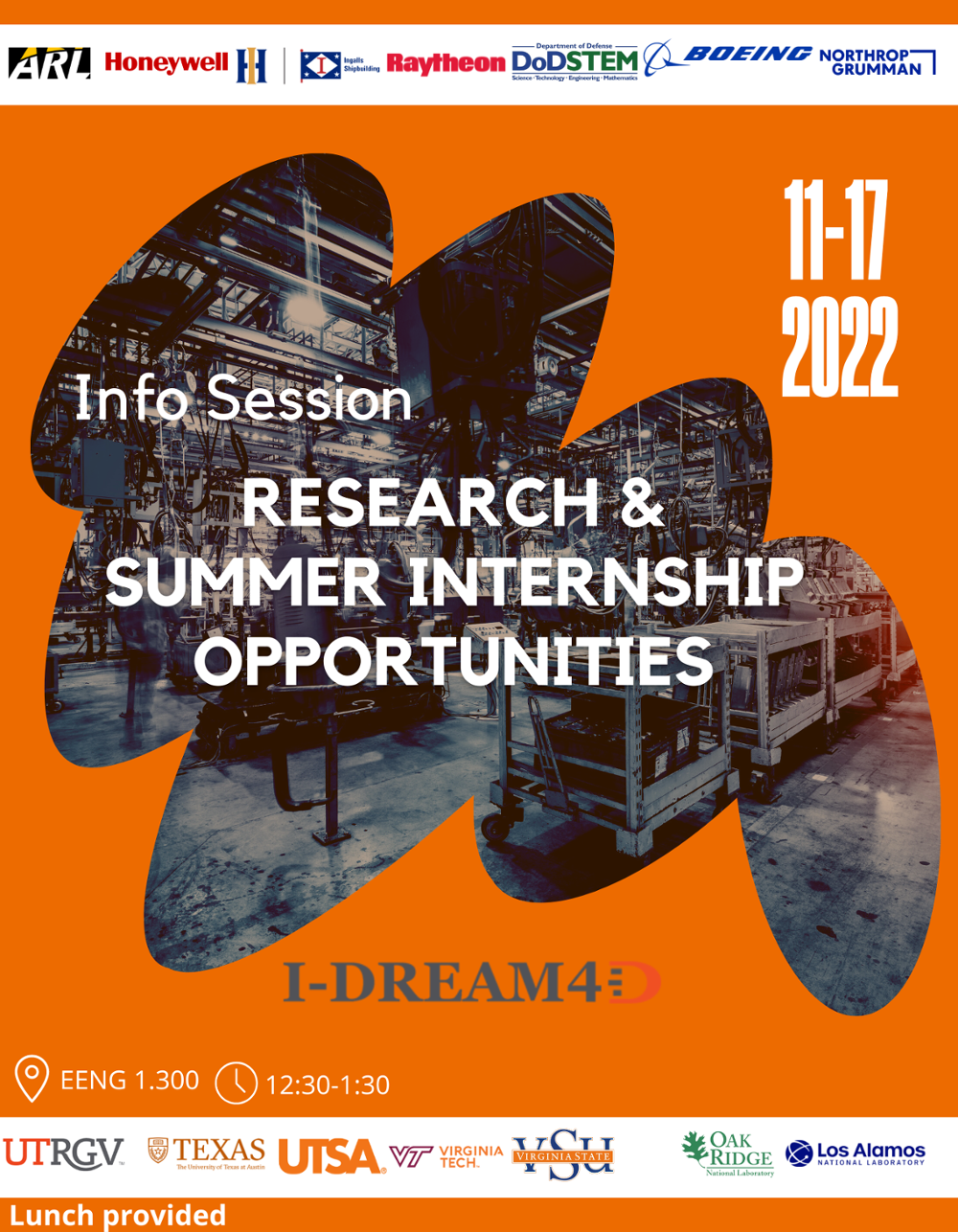 ---
Pentagon's X-Force Fellowship
I-DREAM4D National Consortium and UTRGV CAMICS Center invite all UTRGV students to apply for the Pentagon's X-Force Fellowship.
This is a 10-week internship working with the Department of Defense on emerging technologies across several domains including AI, Autonomy, Cyber Security, Hypersonics, and human-machine teaming. 
This is a great opportunity for students to be exposed to interesting and fast-paced problems. For any internship-specific questions, please reach out to dzhu.ctr@nsin.mil.
 If you have any questions about the application, best practices, resume, etc please contact: idream4d@idream4d.org and camics@utrgv.edu
INTERNSHIP OVERVIEW - Link 
APPLY HERE - LINK
Example Projects:
Army Futures Command: Delivering Autonomous Infrastructure to Remote Locations.
Air Force Research Lab: Predicting weather patterns 6 months in advance.
Army Applications Lab:Human Machine Teaming.
Deadlines:
Applications DUE: 20 JANUARY 2023
Notification of Acceptance: 01 MARCH 2023
Internship Dates:05 JUNE 2023 - 11 AUGUST 2023
FAQs - LINK HERE
When will we know if we're selected for the internship? Students will be invited to participate in interviews from 20 JANUARY - 10 FEBRUARY. 
Who can participate?S Citizens at the Undergraduate and Graduate level are encouraged to apply. The ideal candidate targets Technical, Strategic, and Research related fields ranging from data analytics to communications and marketing.